IN CONCERT: MARTIN SIMPSON, Dec. 12th, Plaxtol Village Hall, sponsored by Replay Acoustics......for tickets call 01732 810 482 or info@replayacoustics.co.uk "Christmas in Plaxtol"
Welcome to the stock and musings of Replay Acoustics. You will find possibly the best stock of vintage Gibsons and Martins in the country within these pages.....happy hunting !!
Believe it or not, the autumn equinox is actually gone and the wood is in the process of being stacked for those winter fires. Festival season is over and it's time to get snuggled in for the dark days with a sweet old Martin or Gibson in your lap. We have possibly the best stock we have ever had and a few rarities have turned our way in the last few weeks. Soon to grace these pages is a '37 Martin Shade top D-18.....possibly the most important instrument we have ever owned. Also listed is a war spec 1944 Martin Herringbone 000-28....crack free.....along with 2 war spec Herringbone D-28's.......amazing. We've also just added to stock a '38 Gibson J-35 and an exceptional 30's Gibson L-Century(just sold) along with a '48 Martin D-18 in almost mint condition. We have also just put up on site the most characterful 59' J-200 that we have ever seen and a sweet '49 Martin 00-17. We're around now that fall is here so give us a jingle or email and come have a go......over 70 vintage Martins and Gibsons hanging at the moment with about 10 still coming in.
I just spent a packet on upgrading the website so that it is phone compatable, so you can now get the site on your handhelds and pads........we've also upgraded the technicals so the pictures are crisper and clearer and the site works faster than it did. A new type style and some trimming here and there of excess copy and I hope you like it.
As a new product to us that we have fallen head over heals for, we are encouraging interest in Elliott Capos. Custom stainless steel handmade capos from a tiny Mom and Pop operation in America that are as sleek as a racehorse...beautifully crafted push button mechanisms and supple lines.....not cheap (actually bloody expensive) but you get every bit of what you pay for with Elliott Capo. ~
To quote the book: "Gibson's Fabulous Flattop Guitars", "C.F. Martin's are the Mercedes of the guitar world !" From build quality and sound refinement to tonewoods, innovation and industry leadership, Martins are the finest and most consistent mass produced guitars in the world. Beautiful quality and exceptional tone dominate the brand. And the Gibson's ??? "Gibson's are the Fords and the Chevys !" Being an American, I know what that means...the heart and the soul....the workingmans music and some of the warmest, most tactile guitars on the planet. Vintage Gibson guitars are....well, how do I put it?.......like a favoured pair of old jeans or cowboy boots !! Thuddy, quirky, soft and incredibly beautiful with their painted sunset tones on old spruce planks !! By no means second best.....just different in a very vintage acoustic sort of way !!

So our concept behind Replay Acoustics, which is a web based business located near Sevenoaks in Kent, is to be a consistent and prominent source of good quality vintage Martin and Gibson guitars. We carry the largest selection of vintage Gibson and Martin acoustic guitars in the country.

Since acoustic guitars are constructed of wood, a moving, breathing organic material, they have a character and a feel that is unique to each instrument. The wood breathes throughout it's existence, influencing tonal quality, sustain, projection and condition.

Although Replay Acoustics handles predominately vintage Gibson and Martin guitars with little or no restoration, a deep understanding of woods and their properties creates a level of appreciation for and understanding of the typical problems associated with acoustic instruments as well as the sometime need for impeccable restoration particularly in rare or fabulous sounding instruments. We prefer instruments that have been played a lot.....they have character and have matured and opened up over time, taking on a richer, mellower tone. After all, it is all about sound and playability for the player of good vintage acoustic guitars and Replay Acoustics strives to provide just that. Instruments with great tone and excellent playability.

If needed, we recommend restoration and repair services thru Graham Parker, one of the finest luthiers in England. (he does Steve Earles guitars) and Andy Crockett or David Crozier.... equally adept at the dark arts. We will expedite repairs on your own guitars as a matter of courtesy and free service and/or put you in touch with them. We will take no fee for this.

We are always interested in purchasing vintage acoustic and archtop guitars by Martin and Gibson as well as taking consignments for luthier built instruments like Santa Cruz, Froggy Bottom, Collings, etc, so if you have something to sell or you are thinning out the herd, please send us an email and we will reply as quickly as possible.

But at the end of the day, Replay Acoustics is about bringing together quality vintage guitars and guitar players of all levels. We hope you will find our collection interesting and above average. And remember: If you don't know where you're goin, any road will get you there !!

Keep pluckin'

Tony Werneke proprietor
Replay Acoustics
The alternative in Rare and Vintage Acoustic Guitars !!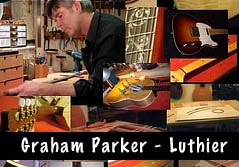 Graham Parker - Luthier
At Replay Acoustics we are proud to be associated with people as passionate about their art as we are. Finding a skilled luthier can be a tough job so we are delighted to promote Graham Parker, a highly respected luthier and long time member of the Institute of Musical Instrument Technology.
To view his website click here.